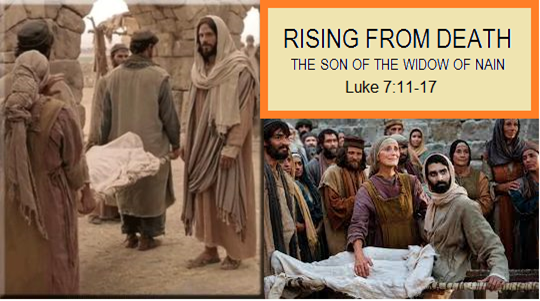 THE RISING FROM DEATH OF THE SON OF THE WIDOW OF NAIN
Feast of Tabernacle 2015 : Descending from MOUNT TABOR we are looking for another famous CHURCH testifying to the RESURRECTION POWER OF THE LIVING CHRIST. The LORD JESUS / YESHUA entered this City of NAIN some 2023 years ago, but although it means JOY, HE found a very sad scene. A Funeral procession of the only Son of a widow in that city... Read the WORD in

LUKE 7: 11-17

Now when He came near to the Gate of the City, behold, there was a dead man carried out, the only son of his mother, and she was a widow, and many people of the city were with her. 13 And when the LORD saw her, He had compassion on her, and said unto her, Weep not .14 And He came and touched the boy: and they that carried him stood still. And he said, Young man, I say unto thee, Arise. 15 And he that was dead sat up, and began to speak. And He delivered him to his mother.16 And there came a fear on all: and they glorified God, saying, &quotThat a great Prophet is risen up among us; and, that God has visited his people.17 And this rumor of him went forth throughout all Judaea, and throughout all the region round about.

My Story: We are supposed to find that Church in NAIN at the bottom of the Hill but it was locked. The key is to be with a neighbor, thus we are knocking on doors and finally finding a neighbor who made the following statement : It is the man on top of the Hill who is the Master Keyholder! Which brings MOUNT TABOR back into play, with the Franciscan Monk in charge of the Church of Transfiguration. But what is YESHUA / JESUS saying to us today , 8.1.2023 ? &quotI am waiting for my CHURCH to surrender to ME, to listen to ME, to follow ME, to the Ends of the Earth. Let there be LIGHT and LIGHT came...

THE LORD YESHUA / JESUS IS STANDING AT THE DOOR AND KNOCKS... WILL YOU OPEN YOUR HEART TO HIM? www.watchandpray.love is from HIM & dedicated to HIM – My first Poem written on 9.21.1996 is titled GOD IS LOVE – GOD IS SITTING ON HIS THRONE, TEARS ARE STREAMING DOWN HIS FACE, FOR LACK OF KNOWLEDGE MY PEOPLE SHALL DIE, HOW COME YOU BELIEVERS ARE SO SHY? I GAVE MY BELOVED SON THAT YOU MAY LIVE, LIVE A LIFE OF PEACE AND HAPPINESS ON EARTH AS IN HEAVEN. SHOUT IT TO THE WORLD, LET THEM SEE, LET THEM HEAR, I AM A GOD OF LOVE, I CARE, YOUR PRAYERS I HEAR... MAKE YESHUA / JESUS YOUR WAY OF LIFE, HE LONGS TO HOLD YOU, LOVE YOU, HEAL YOU. HE IS THE ONE WHO CAME BACK AND IS NOW ALIVE. WHEN I AM YOUR GOD, YOUR FIRST LOVE, THEN YOU'LL DO MY WILL, THEN YOU'LL KNOW TRUE LOVE, HAVE PEACE AND HAPINESS ALL THE DAYS OF YOUR LIVES AS I LOVE YOU ALWAYS, EVEN TO THE END OF THE TIMES... THUS HE SAYS: BACK TO GENESIS 1:3 – LET THERE BE LIGHT – 1:5 AND THERE WAS EVENING AND THERE WAS MORNING, THE FIRST DAY... ~~~ REVELATION 22:16-17 ~~~ I, JESUS /YESHUA, HAVE SENT MINE ANGEL TO TESTIFY UNTO YOU THESE THINGS IN THE CHURCHES. I AM THE ROOT AND THE OFFSPRING OF DAVID, AND THE BRIGHT AND MORNING STAR. AND THE SPIRIT AND THE BRIDE SAY COME. AND LET HIM THAT HEARS SAY COME. AND LET HIM THAT IS ATHIRST COME. AND WHOSOEVER WILL, LET HIM TAKE THE WATER OF LIFE FREELY....
by Monique
www.watchandpray.love